Chapter 7: Think better, perform better
Here are some practical techniques in sports psychology that can be used to make real gains in performance.
Try asking yourself a couple of questions:
What proportion of your performance do you think is due to your mind?

What proportion of the training time do you commit to training your mind?
My guess is that there will be a discrepancy between the two answers and in all likelihood you believe that your mind plays a significantly greater role in your performance than the proportion of time you spend training it.
In associating with a number of elite athletes and also carefully watching interviews with others it is apparent that the best athletes think differently to the norm. Many athletes focus on missed training, niggling injuries and sometimes dread racing with expectation of failure.
The best athletes see competition as an exciting opportunity to find out how well they can do.
If you were an elite athlete how would you think? Of course, you may be an elite athlete but even if you are I think you will enjoy and benefit from this exercise.
What is your approach to competition?
Think about your approach to competition. It is good to think of a specific example but if you don't have one or you are coming up to your first competition don't worry, just imagine a scenario.
Close your eyes and breath deeply and slowly for a few breaths then imagine yourself at a competition. Think about how you feel, what you are doing, what you see, smell, hear and feel. How are you preparing for the competition,
are you chatting with friends or alone?
are you being positive about yourself of negative?
are you thinking about the coming competition or what you are going to have for dinner?
are you happy or sad?
are you looking forward to the competition?
achieve your goal, exceed your goal or fail?
Make a few notes and list the 5 strongest points about how you think and feel before competitions. Now have a break, make a cup of tea or wander round a bit.
Now repeat the exercise but imagine you are the best athlete in the world at the moment:
are you chatting with friends or alone?
are you being positive about yourself of negative?
are you thinking about the coming competition or what you are going to have for dinner?
are you happy or sad?
are you looking forward to the competition?
do you expect to win or lose,
achieve your goal, exceed your goal or fail?
Make a few notes and list the 5 strongest points about how you would think and feel before competitions if you were the best in the world.
Think about the differences and whether you think you could prepare differently for competitions. My guess is you could and if you did you would improve your performance and enjoyment almost immediately.
Pre competition routine:
You can use the results of the exercise to think about how to change your approach to competing.
While things are still fresh in your mind you can write a schedule of how you will prepare for competition in the future. Start by writing down how you will spend the week before the competition and then the day before, getting to the venue and what you will do 2 hours, 1 hour, 30 minutes, etc… before the start. Visualise each stage to see how if feels and whether it is realistic. You can practice the routine before a training sessions to make sure everything works.
Things you may like to consider are
music? do you want to use music to help you avoid distractions, if so it can be good to prepare a playlist that works for you and gets you in the right frame of mind;
if you are to associate with people and club mates before the competition are some people better to be around than others. People that sap your energy and confidence are best avoided and certainly best avoided before competition. It is usually better to avoid other people where possible so that you can maintain control of your environment and avoid any unexpected distractions;
etc.
After your next competition, think about how it went and how you can improve. Modify your precompetition plan if necessary and continue to improve.
Some common techniques and concepts
Negative self talk
Perhaps the most common negative influence from our minds is known as negative self talk. This is where negative statements come into our minds, either before or during competition or even during training. Before competition it might be things like; 'I haven't trained enough', 'I am not very fit', 'he/she looks much fitter than me', etc…. In competition, say for during an endurance event, things like 'I can't go as fast as him/her', 'I'd better slow down or I won't finish', 'I have no chance of making my target time so I may as well give up', etc….
It is reasonable to say that doubt comes into everyone's mind at some point but there are techniques that can be used to turn the negative thinking round to positive.
First it is worth introducing an important concept that has many uses:
The Winning Image
The winning image is an image of success, you achieving your goal.
If you haven't already, you can create and reinforce your winning image now.
Close your eyes and imagine yourself achieving your goal. Imagine how you feel, what you see, what you hear; be happy about your winning image.
Once you have your image in mind make it more vivid, make the colours around you brighter, the sounds more positive and the feelings of elation more powerful and exciting.
The more you practice your winning image the more powerful and motivating it will be. You can use it to help you get out training when you don't feel like it, feel positive about yourself during tough times and if you are ill or injured you can go back to your winning image to motivate you to do the right things to speed your recovery and get back in training.
You can also use the winning image to deal with negative self talk and to do this you can learn the Stop/Clap technique.
Stop/clap technique to stop negative self talk
First of all there is a bit of work, you need a couple of lists.
Write down a list of all the negative things that come into your head that are unhelpful to your sport. Take some time to do this; aim for at least 10 things, you can add to the list over time as you notice other unhelpful ideas that you want to change.
Now for each item on your negative list write a positive alternative.
For example: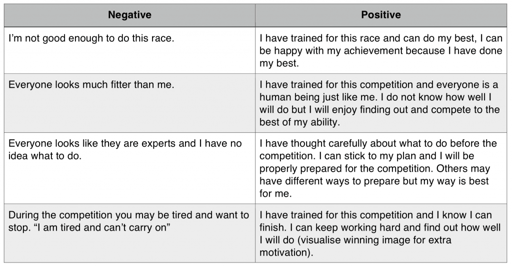 After writing these lists you will be able to start to ignore the negatives and focus on the positives. This will help create a positive mindset that allows you to focus on competing and training well without the distraction of energy sapping doubt and anxiety.
It is a good idea to spend some time practicing thinking through the positive items on the list.
The stop/clap technique is a way of stopping negative self talk and replacing it with positive.
When you catch yourself dragging yourself down with negative thinking or talking; take the following steps.
Say STOP, make a noise by CLAPPING or similar and visualise a big red STOP sign – this is to distract your mind and stop the negative thinking;
Visualise your Winning Image – make it clear and feel happy about the success it depicts, feel the success;
Work through your list of positive things, taking time to believe in each one.
After you have gone through this process you can continue your pre competition routine and look forward to a much more successful performance.
Of course, there may be times when you don't want to clap and shout STOP or when it may be impractical such as if you are working hard in a competition trying to hang on. At these times you can think it and say STOP to yourself before moving on to step 2.
It is important to practice this skill and the more you practice the better you will get and the more effectively you will be able to use the technique. Also, the more you practice the more you will be replacing the negative thoughts and beliefs with positive, thus reducing the likelihood of being overtaken by negative self talk in the first place.
Other things
There are many other things that working on psychology can improve such as:
Excessive anxiety – can have surprisingly powerful debilitating physiological effects. Some arousal is useful to sporting performance but too much can be very negative:

In skill based sports such as golf it can become impossible to control one's movements due to tension and shakes;

In other sports debilitating panic attacks can result from overwhelming anxiety that seriously hampers performance;

This can sometimes be similar to, or induced by negative self talk and therefore helped using a similar technique to the stop/clap approach.

Limiting beliefs – people are often limited by what they believe is possible. For example, it took a long time for someone to run a mile in less than 4 minutes but once Roger Bannister had broken that boundary a number of others did so and the mile record reduced more rapidly. People were not fitter they just realised that running faster was possible.
Fears – people are often limited by their fears. This can be a fear of failure that results in inventing excuses not to even try or reasons that something is not possible; fear of injury such as that associated with racing down a difficult technical descent. In reality, fear is likely to increase the chances of failure or falling so working on these fears is likely to pay dividends.
If you find these ideas useful but have difficulty with the exercises, you can do these exercises with a non-judgemental and supportive friend who can help you be objective and affirm the outcomes of the exercises. Alternatively, a few sessions with a professional with experience and/or understanding of your sport can pay significant dividends and although not yet mainstream, hypnotic techniques can be very effective in reinforcing positive habits and thinking. At JHCoaching we have seen and helped many people think and perform differently to exceed what they considered possible.
Your mind is probably the most important thing in your journey to success and even by reading this article you have gone a long way to putting a successful mindset in place. If you don't believe in the value of making the commitment to yourself to take part in your sport you are unlikely to succeed, in fact you may find it difficult to practice or train at all so it is good to be positive, take yourself seriously and take pride in what you are doing.
Have fun and please let me know what you think.