Over the years I have read many books about training, coaching, nutrition, strength and conditioning, etc. Some of these have been very useful and some less useful. This blog provides a review of the ones I have found to be of most practical use along with a few that are just a good and inspiring read.
The basics of becoming better in a given sport are quite simple and if you work hard and train consistently without over doing it, you will get better. The things I find most useful, are the little things that are included in these books. Different ways of thinking or approaching something are often the things that make the difference between a mediocre and an amazing performance, so look to beyond the obvious consider the bigger picture as well as the details and you will make the gains you want.
I have listed my favourite books in various categories and then expanded on the content a little, later on.
My favourite cycling training books are:
My favourite running books are:
My favourite nutrition books are:
My favourite strength and conditioning books are:
My favourite inspirational books are:
My favourite (sports) psychology books are:
My favourite cycling training books are: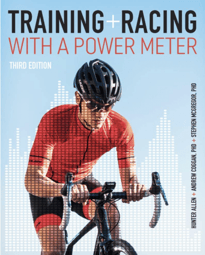 Now in it's third edition, this book tells you everything you would ever want to know about power meters and how to use them. However, it isn't just the specific references to using a power meter that is of value to the reader, it is the exploration of the principles of bicycle training and racing. Even if you don't have a power meter and never plan to train with power, the explanations of how various factors come into play during the various types of bike race and how one would approach training specifically to meet those needs is invaluable. There are some interesting comparisons of power zones with heart rate zones that would prove useful if you don't use a power meter and some very useful example training sessions that will be challenging and quite unpleasant, should you choose to test them out.
As an aside, if you don't have a power meter, there are a few workarounds nowadays. I work with a number of cyclists that do power based training sessions in the gym, as many gyms now have Wattbikes or similar that output power. Another approach can be that many basic turbo trainers have been calibrated to give pseudo power output based on speed, thus presenting another relatively low cost option to access the world of training with power. Also, of course, the cost of power meters continues to come down making the purchase of such a device increasingly affordable.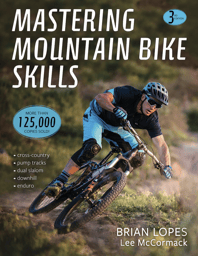 I had this book recommended to me during a mountain bike coaching course. Coming from a road cycling background, my off-road skills weren't particularly good and by reading this book and implementing the techniques presented I improved my skills as well as improving my skills coaching. The book gave another perspective to what I had learned on the coaching course that has proved invaluable as I work with clients.
Brian Lopes was one of the best mountain bike racers of his generation and he brings practical insights of what to expect and what to avoid as you approach technical terrain. Combining this with some of your personal experience and a few YouTube videos is almost certain to see you feeling more confident, riding faster and enjoying your time on the trails much more.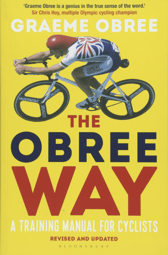 Graeme Obree is a pragmatist that challenges the status quo. Some may call him a little eccentric but others might call him a genius as he learned and tested to develop his fitness and equipment to take two World Championship Gold Medals and break the prestigious Hour Record on a bike that he developed and built himself. Graeme's practical approach comes through in this book, providing some gems of information and strategies that if followed are certain to yield results.
The book considers on the bike training, strength and conditioning and nutrition in a logical and practical way that demonstrates that it isn't necessary to spend your life's savings on high tech equipment and nutrition to reach the highest level.
My favourite running training books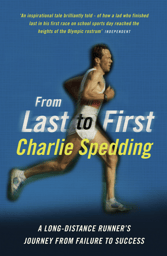 I have listed this book twice and could probably have included it in my list of most inspirational books as well. I love people who are able to take a practical approach to life adjust their goals and work out how to achieve them in a down to earth way.
Charlie Spedding was a good but not outstanding runner and on the face of it, was heading towards remaining in that part of the field. However, with a combination of commitment, not giving up on his dreams and finding a way to reframe his thinking to make what may have seemed impossible seem achievable, he was able to win the London Marathon, run in two Olympic Games Marathons and come away with an Olympic Bronze medal.
Charlie's book is open, down to earth and practical, inspiring and probably the best sports biography I have ever read.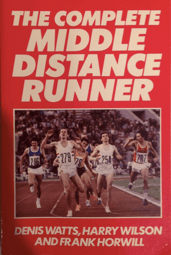 I have included this book because I find the down to earth practicality as refreshing today as it was when I first read it over 30 years ago. Unfortunately the book doesn't appear to be readily available and the Amazon listing is eyewateringly expensive. However, it is one of my favourites and a book that I still refer to.
The 5 pace system promoted by Frank Horwill and reportedly used by Sebastian Coe in his training to become arguably one of the best 800m runners ever, still provides a simple and effective basis for running training and one that I have used to good effect with many cyclists. Most notably, many of the sessions that Karen Darke completed in her preparation for the London 2012 Paralympics were adaptations of the system that ultimately yielded a silver medal in the time trial and a photo finish for bronze in the road race.
The authors coached some of the best athletes ever to where a British team vest and the content of this small book reflects the fact that the basics are what count. Having said that, implementing the basics isn't always the easiest. If you can get hold of a copy, have a read.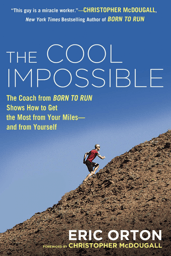 Continuing the somewhat unorthodox theme of running books: The Cool Impossible was first mentioned to me by one of my clients during our initial Skype meeting. I am not a strong advocate of barefoot running, but I am a believer in the benefits of strong feet and ankles that function with correct biomechanics. I think there are two valuable messages in the book, focus to how you feel and let your fitness develop naturally and the strengthening exercises that are described in detail. I believe that any athlete wanting to minimise the risk of injury or in the process of rehabilitation would be well advised to follow the plan described in the book and in doing so would almost certainly minimise the risk of future problems.
During the book, the author describes a week that he spends with a client that is visiting to learn his methods. He describes the various training sessions they do together and the reasons for each activity as well as how it fits into the overall training philosophy. The book has a nice, relaxed pace that the reader can imagine as taking them on a journey through their own training and development of strength and fitness.
My favourite nutrition books: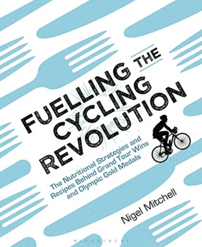 I was fortunate enough to work with Nigel during my time working with British Cycling, when Nigel was the nutritionist for the British Cycling Team and the Sky Team – busy man! Fortunately, Nigel still had time to talk to us and provide practical advice that I find useful to this day.
The book emphasises the individual nature of sports nutrition reinforcing the fact that just because something works for an athlete you may have read about, doesn't mean it will work for you. The book presents underlying principles that help understanding of why nutrition works in the way it does so that the reader can develop their own nutrition strategy. These principles are combined with specific examples of a number of training and racing scenarios that can be adapted and developed to provide an optimum approach to sports nutrition.
The book has a number of useful recipes and discusses specific diets.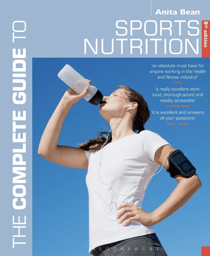 I have several books by Anita Bean. Her books are easy to read, present a clear theoretical and referenced background for her approach combined with easy to understand, practically applicable approaches. This book is no exception, as it explains the basics of nutrition, guidelines as the recommended intake of macro- and micro-nutrients with variations applicable to various sports types.
Going into further detail, the book considers strategies for weight gain and weight loss in controlled ways that are planned to avoid loss in performance or loss of valuable lean tissue (muscle).
The book has a very comprehensive section on supplements and provides recipes for effective methods of making sports nutrition products that are much cheaper than the pre-made, commercially available products.
Anita has also written and excellent book that is specifically focused on the female athlete: Sports Nutrition for Women.
My favourite strength and conditioning books: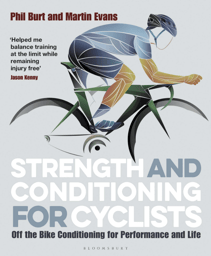 Phil Burt and Martin Evans worked at British Cycling for a period of time, taking a hand in the development of the outstandingly successful performances in the Olympic Games. They take what they have learned and present it in an accessible and practical way to provide a complete guide to developing a strength and conditioning programme that works for you.
As the authors say, everyone is an individual and individual needs vary both in general terms and with time. The book is designed to be applicable to 90% of the cycling population, those who do not have access to a specific strength and conditioning coach or a personalised lifting programme. Although specifically written for cyclists, the book is applicable to most disciplines and with a little tweaking, would be equally applicable for runner.
The book starts by describing the fundamentals before moving on to a detailed screening process that you can perform on your own but works a little better with the help of another person. Exercises are then presented in a graduated way based on the findings of the movement screens.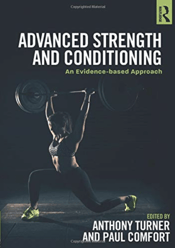 I recently purchased this book, driven by a desire to learn more about strength and conditioning at the highest level. There are a lot of self proclaimed experts in the gym and so it is easy to be mislead or be confused by conflicting information. This book provides up to date, evidence based explanations a full spectrum of relevant topics, including some details of the development of aerobic endurance fitness and how to combine endurance training with a strength programme.
The book isn't cheap and goes into some detail that would require a reasonable background in the subject. However, the salient details are summarised so it isn't necessary to have detailed expertise to find the contents practically applicable.
If you want to understand what has been found to work and what hasn't so that you can cut through the bullshit and develop a pragmatic approach to strength and conditioning I can highly recommend the investment of purchasing and reading this book.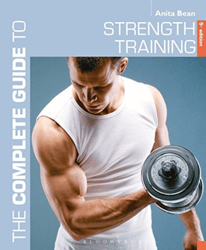 Another of Anita Bean's Complete Guides, this book combines sound theoretical principles with practical guidelines that are easy to apply and follow. The book is easy to read and provides a comprehensive explanation of everything you need to know, categorised by subject that allows you to focus your training programme towards your particular goals.
Having read this book you are likely to feel you have a good understanding of the subject, feeling armed to move forward from a knowledgeable position.
My favourite inspirational books are:
Based in the realm of American Collegiate Sports, this book is perhaps an epitome of what all runners probably dream of at some point in their career. The hero, Cass, is talented and competes with reasonable success at the collegiate level before taking the step to leave everything behind and focus completely on his running. He completes some arduous sessions and runs long miles, whilst living a simple life of a hermit before returning to face elite competition. You will have to read the book to learn more but I am pleased to see that it is still available and it provides an easy read. Enjoy!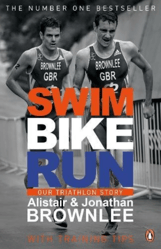 Being a Yorkshireman I could hardly leave out the book by the Brownlee brothers, who are strongly patriotic of varied cultures and training environments provided by the county and particularly their long bike rides in the Yorkshire Dales. I have been lucky enough to meet Jonathan and Alistair on a few occasions and if I hadn't known who they were there would be no way of knowing that they are elite and famous athletes. The book also mentions Jack Maitland, a coach involved in their formative years and a friend of mine over many years as we competed in fell and mountain races before he moved into triathlon and becoming one of the foremost triathlon coaches of our time.
Alistair and Jonathan assign their success to a strong background in the fundamental sports of triathlon. Running with their school, then Bingley Harriers, cycling on the Sunday club rides and 'leaping' out of bed early every morning for their swim sessions.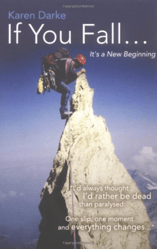 Karen wrote this book before I met her, although I read it after I had met her. Karen is now a close personal friend, she was the first athlete that I coached and after over 10 years of working with her I still find her an inspiration. Karen has an amazing ability to turn seemingly negative situations into positive and quickly develop positive mindsets from difficult situations.
The full title of the book is 'If you fall: it's a new beginning'. Literally speaking this describes Karen's climbing accident that left her paralysed from the chest down at the age of 21, which required a new beginning. The book describes many people who helped her, things that worked and helped her move on. Metaphorically, the message is that things can happen to us that force us into directions we may not have chosen, however, these things are not necessarily bad but part of life's adventure.
My favourite (sports) psychology books are: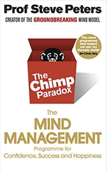 Steve Peters is an amazing person that I count myself very lucky to have met personally on a few occasions. I hesitate to say that we were colleagues at British Cycling but I am proud to know that we were, particularly as I started coaching an athlete that Steve had personally worked with over a number of years. His advice in respect of this athlete was invaluable and the advice given in his book can, and should be, life changing for the reader.
Steve describes a simplistic model for how our minds work, how we can get taken over by our emotions, our inner chimp and how we can learn to work with our chimps to move forward to more fulfilling and successful lives. I have used Steve's model successfully in my own work and cannot recommend this book and the contents more highly. It isn't really about sport but it is about life, however, in many respects, sport can be seen as a metaphor for life.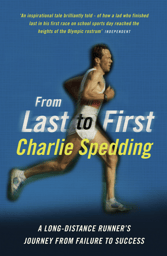 I have already mentioned this book as one of my favourite running training books but I think it is in Charlie's description of how he adjusts his thinking towards positive outcomes is where we can learn the most. Against the odds, Charlie was able to achieve two amazing performances at consecutive Olympics and win the London Marathon. Specialising in a sport, marathon running, where how you think is arguably at least as important as your physical capabilities, Charlie describes how he found his niche, committed to it and achieved an outstanding athletic career.
It's a short easy book to read, not expensive and I feel sure you won't regret making the investment.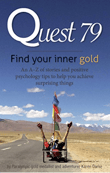 This book is very close to my heart and mentions me a number of times. Karen wrote the book over many years while we were working together, so I was able to enjoy many discussions on the topics presented and watch the ideas develop.
Quest 79 is a collection of short stories from Karen's experiences in adventure and sport, each with a lesson that she hopes is helpful to anyone looking to optimise their thinking, to live life to the full and achieve surprising things. Presented in an A–Z format, the book has positive psychology tips useful not only for sport, but for enhancing happiness and success in life.
Many of the people I work with have found it inspirational and used the ideas to great effect in achieving well beyond their original expectations.
If you choose to read one, a few or all of these books, I hope you enjoy them as much as I did. I would love to know what you think and if you have any books you think would be enjoyable and useful please also let us know.