I have ridden a bike for most of my adult life and in actual fact came from leisurely (somewhat sporadic) cycling to running. When I began running seriously, I stopped biking for a while, but gradually began adding it in to my training plan. The advantages of doing so are well-documented, but it can be difficult to incorporate a new sport into your training regime. It can also feel a bit counterintuitive to the adage that to get better at running you need to do more running.
So how do you include cycling into a trail running plan? Well there are many different ways to do this that will not compromise your running and will in fact be very beneficial. Here's a few things I have done and learnt about over the years.
Easy recovery rides
Initially I incorporated cycling by including some easy recovery rides the day after a race. This enabled me to go out long and slow whilst giving my joints and muscles a break from impact of running. It also helped me recover by flushing out some of the lactic build up with some gentle exercise. Similarly, these days, I tend to make my main session on Mondays a cycle ride so that my muscles can turn over and I can recover from a weekend of hard training/racing.
Keeping fit whilst injured
In 2016 I was just getting back into running when I seriously strained my hamstring; frustratingly I was out again and pretty grumpy about it. However, I maintained and gained fitness by cycling. As it was winter time, cycling included some brutal turbo sessions given by my coach; I have never worked so hard before or since. From this I got very strong and gradually introduced running back into the mix, initially by alternating easy runs with hard cycling sessions and then later by including some harder runs with turbo sessions in the same week. It was off this training that I was able to complete my first mountain bike race and win a sprint Skyrunning event within two weeks.
Here's an example of one of the turbo sessions I used to dread, but which got me very fit:
Warm up 15 minutes including 3 x 1 minute accelerations to flat out pace in last 10 seconds of last one
2 minutes easy pedalling
2 sets of:-
2 minutes, 3minutes, 4 minutes, 3 minutes, 2 minutes [start each new effort every 5 minutes]
10 minutes easy pedalling warm down
You'll notice that as bike sessions go this was relatively short 1 hour 17 minutes in total; turbo sessions are a good way of getting a good bike session without spending too much time; they are hard but effective both from the point of view of fitness gains and of time. So if you are short on time, this can be a good way to keep and gain fitness whilst injured. There are many computer programmes now that will give you a stock of ready made sessions that you can follow on your bike with the right equipment including Zwift and Trainer Road; you can even do a threshold test with these to make sure the sessions are designed specifically for your fitness level.
If all this seems too daunting you can simply replicate running speed sessions you have done on a turbo session to good effect. For example instead of doing 10 x 400m off 1 minute recovery, you could warm up as per the session above and do 10 x 90second hard with 1 minute recovery then cool down for 10 minutes; instead of 3 sets of 5 by 30 second hill reps, you could do 3 sets of 5 by 30 seconds as hard as you can in your hardest gear.
Avoiding injury
These days I have to accept that that hamstring strain is part of a general weakness I have carried for most of my running career. As such I have continued to keep cycling as part of my training in order to avoid injury; whilst I love to run, I have grown to love cycling too. Cycling can help you train more and avoid the injuries that overuse can cause by focussing solely on running. Depending on how chronic your problems are and what they are, using different muscles to make some fitness gains can be a good way of keeping on top of things.
Brick workouts
A brick workout is one where you start in one sport and move directly into another within the same workout. A good way to improve endurance without putting so much strain on the joints is to finish off your long run with a gentle spin on the bike; this gets you used to turning your legs over when you are tired and can add a good half hour to a long training session. Both Sarah Rowell and Wendy Dodd in their book 'Trail and Mountain Running' recommend including this type of session when training for fell and mountain races as part of endurance training.
If you are planning or thinking of trying a triathlon doing a run off a cycle ride is also a good introduction into this type of race, as the transition can be difficult at first.
Endurance rides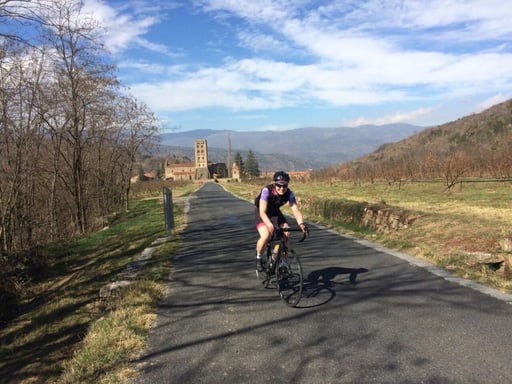 Endurance rides are a great way to get the benefit of training without the strain of long runs. This is particularly the case if you are trying to do more than one endurance run per week; making one of these a cycle ride can improve your endurance whilst improving your overall quad strength (handy if you are planning some long (running) hill climbs).
One of the things endurance rides taught me is that pacing is key; if your are hoping to ride fifty miles you need to set off steady because what feels easy at first will feel very difficult. With a bike of course you have a choice of gears; the key is to keep in an easy gear and maintain a high cadence, so you are keeping your riding efficient. This will also help your running cadence and efficiency.
Getting Started
If you are new to cycling it's always best to start a new sport gradually – even if you are very running fit, being bike fit is slightly different. So take it steady and build gradually. You could start by just going for a gentle hour once or twice per week to get used to riding your bike and incorporating it into your training and build this up to 90 minutes and more twice a week: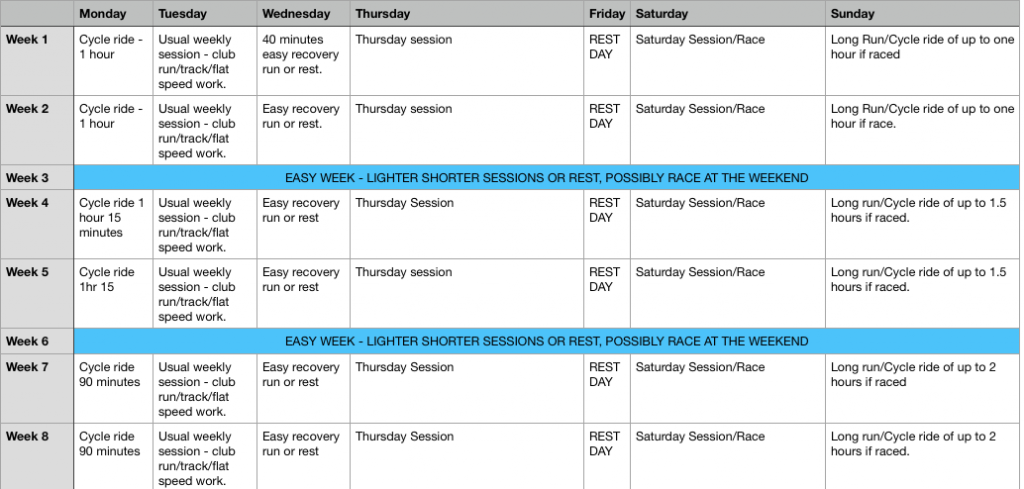 Investing in a Bike
Cycling is a great sport…but it can be very expensive and going into a bike shop to buy your first bike can be very daunting. When I bought my current bike here were some of the things I considered (and mistakes I made).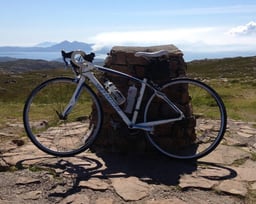 I decided I wanted a road bike; I had only ever ridden on the roads and at that time was not ready to try the new and quite different skill of mountain biking (more of which later).
I knew I didn't need a very expensive bike as I had no plan to race it but I did want a 'nice' bike. I decided to go for something with a decent frame and have gradually over the years replaced cheaper components with better ones so the bike has progressed from a 'nice' bike to a bike I'm really happy with.
I bought a bike frame that was slightly too big; I have managed to work around this over the years by buying shorter cranks, changing the headset, but I am aware that it is still slightly too big…if I ever buy another I'll make sure I buy the right size. I bought this size because I was limited by the scheme I was buying the bike under so my hands were tied a bit but it is still something I regret, and if I could go back I would have gone for a right size and a slightly lower spec frame. If you really want to invest some time and money you could book yourself into a bike fit session with a qualified bike fitter; whilst this will cost a bit of money, having your bike set up perfectly can make a lot of difference to how it feels and can help avoid injuries.
I took a friend with me who knew about bikes (he told me he thought the frame was too big…so clearly I didn't use the resources I had pooled!) This gave me confidence and also helped when the salesperson was confusing me.
I put on small handlebars – I am 5 feet 2 inches tall and very slight, the bars the bike came with were too big and this affected my balance and comfort so one of the first things we changed on the bike was we fitted it with small ladies bars, which made a big difference.
Pedals – I decided I wanted to be clipped into my pedals although the basis of this decision was poor (I think I wanted to look like a proper cyclist). That said, being clipped in does help you take advantage of the full pedal stroke and make your riding much smoother. If you do decide to go for clipped in pedals and shoes take time to practise stopping and starting in a safe place, or even just clipping in and out whilst stationary to really get the hang of it.
Shorts – good cycling shorts are expensive…but in my experience worth it. I tend to look for good shorts in the sales and buy the best I can afford. I would advise sex specific (male/female) shorts with a chamois designed to be worn next to the skin (ie no pants) and some good chamois cream to avoid serious problems in your nether regions. Being saddle sore is one thing, screaming in the shower as you have a blister or worse still friction burn in your nether regions quite another!
Saddle – once I started doing some turbo sessions, I hit a real issue with the saddle that no amount of chamois cream and good shorts could sort. At this time I did a lot of saddle research and decided to invest in a female specific saddle, I chose a make that allowed you to 'try before you buy' and tested it for a fortnight before taking the plunge. Saddles can be expensive, so being able to test one out first is a good idea as everyone is slightly different and what works for one person won't for another.
Brakes – when I first got this bike, I was really struggling to descend. For a long time, I put this down to poor skill, but after hiring a bike in Mallorca, I realised that the reach on my brakes was too long so I managed to get hold of some smaller brake levers and hoods, which has made a massive difference to both my confidence and my descending.
Maintenance
If you are going to ride a bike, you are going to need to be able to maintain it. It's up to you how you do this, you may have a kind friend/partner who is happy to do all your maintenance for you or you may decide to just take it to a local bike shop for repairs and general haul overs when needed. However, if you are going out on your own for periods of time, you are going to need to be able to sort a puncture, deal with chain problems and ensure that the bike is ok to ride before you set off.
I've done most of my learning by watching others and YouTube videos, but there are some great bike maintenance courses you can invest in these days or you can ask a friend to show you.
In my experience this is the most frustrating part of cycling, with running you put on your shoes and go, with cycling until you are into a routine you put on your shoes, realise your tyres need pumping up/that you've got a puncture, realise your bottle cage is loose, realise the chain needs lube and you have none…then two hours later you either give up or eventually go for your ride. It helps to have a good routine and to plan: have the things you know you need at hand and allow time to check the bike; keep on top of odd squeaks and creaks and if you are using it weekly, give your bike a good checking once a week (a well spent half hour on Sunday afternoon can save you a lot of grumpiness on Monday evening!).
Mountain Bike/Road Bike/Cross Bike/Gravel Bike/Hybrid
As with running there are many different types of cycling and finding the type that you most enjoy is likely to be the most successful addition to your training plan. As I stated earlier, I started off with a road bike as I didn't feel ready to learn the more complex skill of mountain biking. Since then I have taken up mountain biking and really enjoy being out on the trails. I have also additionally found that learning to descend on my mountain bike has vastly improved my running descending skills for trail racing, teaching me to look for good fast lines, think quickly and go for it.
Each type of cycling will have it's own particular benefits (e.g. mountain biking requires more explosive strength to get up steep hills, road biking requires steady even riding for long periods) but whichever you choose the benefits will cross over into your running. At the moment I am actually doing a road ride on a Monday and a mountain bike ride on a Thursday; I have a friend who has a nice hybrid that she rides to and from visiting relatives and does some triathlons and Sportifs with. If you don't fancy any of these you could simply choose to do a spin class at your local gym or some aqua-biking.
Additional questions:
How do I measure effort on my bike? If you have a stop watch and some kind of heartrate monitor for running, this will work just as well for cycling, many watches now have alternative settings for different sports, but as a minimum all you really need is the time and heartrate. Just remember that your maximum and threshold heartrates on a bike may be different from running, especially at the start when you're not as bike fit. If you want to be really accurate you can do a threshold test, but the main thing initially is to keep it light and easy. If you can record your speed and distance as well that's great. Power meters are a good way of measuring effort, but they are also very expensive, so unless you are lucky enough to inherit your boyfriend's old one (like me with most of my cycling equipment), it's probably something to think about further down the line if you are new to the sport.
What if I've never ridden a bike? If you've never ridden a bike and would like to try there are adult classes where you can learn, once you've got your sense of balance and can ride in a straight line, you can start building up your confidence and distance. If you'd rather play it safe, you can always go to a gym and use a static bike.
Does it have to be cycling? Whilst cycling is a great way to cross train, there are many others to choose from, the ideal is to choose something you enjoy because if you enjoy it you are more likely to continue doing it. If cycling really isn't your thing you could incorporate swimming, walking, elliptical training, skiing, raquettes or whatever else takes your fancy. The trick is to either keep it light or account for a harder session in your training plan.
A professional endurance coach since 2018, Clare Pearson has worked with runners to help them achieve their goals. Clare specialises in trail/mountain/fell running. Clare loves to work with people to help them succeed at their own goals; whether that's a personal best, a completion, a podium or better emotional health. Clare will work with you to design a plan that fits in with your day to day life and helps you get the most out of each session.