Le Grand Trail de L'Aspre is an annual trail race run by local volunteers starting and finishing in Thuir, taking in the breath-taking countryside and mountains in and around Conflent.
It all started on the way back from another race (Denivélé de Noël to be precise). Four girls in a car high as kites from a grand race what more was there to do than to plan the next one? LA 66 GTA was a local race with two options: 66km of racing solo or a relay of 41km and 25km respectively. Luckily for me, I was able to do the relay with my friend Édith.
So after three weeks of full time work (and a bit of running!) in the UK I came home late on Saturday 29th February 2020 in time to be at the changeover in Caixas by 11:30am the next day.
I know I'm biassed, I have afterall chosen to live here, but after three weeks of training through storm Ciara followed swiftly by storm Dennis to be trotting along in the sunshine with mountains all around was like being in paradise!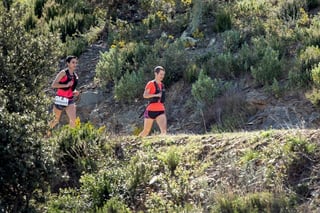 If you like running and want to see a bit more of the Conflent region I can highly recommend this race. Semi-supported (which in this case means an organised food and drink stop every 12km or so) clearly marked so that you need no map or knowledge of the area and forming a loop from Thuir through the mountains and hills of the region and back to Thuir.
I had the glory leg of our race which meant I was able (with my every supportive partner of course) to run through the museum of Thuir and through the distillery where Byrrh, an apératif made in the town from red wine, mistell and quinine was quietly distilling. What a treat to end a fabulous race running between the great vats and smelling the aroma the Byrrh as Edith and I ran through to the finish together.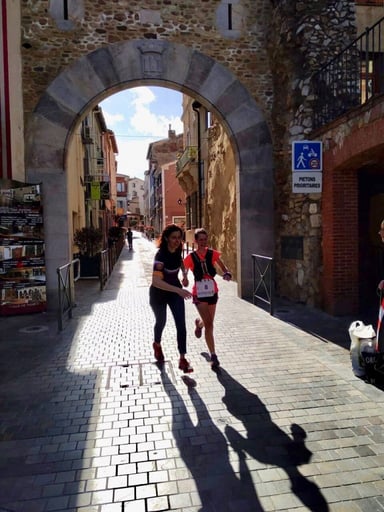 After a light snack in the sports hall we then enjoyed the prize giving event and a meal (there was even something for the itinerant vegan in the group ie me).
What I loved about this race (apart from the sun and the beautiful countryside) was the local nature of the event. It was run totally by volunteers who supported all the runners along the full 66km, cheering us on, providing food and drink and taking the time to mark out the course in the days before. It starts and finishes in a sports hall with plenty of amenities, including showers and Thuir is a great place to stay and look round for all or part of a holiday.
La 66 GTA epitomised for me the camaraderie of racing; friends racing together and supporting each other is one of the things I love about trail running. We had friends watching, supporting us along the way, as well as each other when the pace permitted.
It was great to be part of this event; we were all lucky enough to get prizes too! All told another grand day out with great friends doing what we love!
A professional endurance coach since 2018, Clare Pearson has worked with runners to help them achieve their goals. Clare specialises in trail/mountain/fell running. Clare loves to work with people to help them succeed at their own goals; whether that's a personal best, a completion, a podium or better emotional health. Clare will work with you to design a plan that fits in with your day to day life and helps you get the most out of each session.